Actress Andrea Powell of Ender's Game and Twilight Talks About Her Horrifying Yet Wonderful Audition — Part I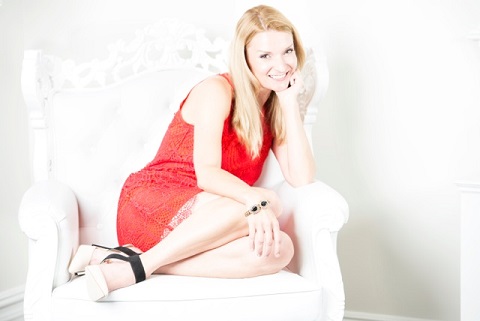 Andrea Powell plays Ender's mom, Theresa Wiggin, in the film Ender's Game premiering November 1. You'll also remember her as Sasha in the film Twilight: Breaking Dawn.
Visit Andrea Powell's Website and Twitter: @andipowell
Photo by King PDT Hair & Makeup by Valerie Star

There's living life and then there's living life to its fullest. Actress Andrea Powell somehow manages both and keeps the same 24-hours-a-day time schedule as the rest of us!
I was curious when Andrea was going to return her answers to my interview questions, and magically I received this lovely note from her:
I'm so sorry for the lateness of this… I've been in Iceland watching the aurora borealis for the first time in my life while celebrating my 20th wedding anniversary AND my birthday. (I know, right? I'm not being obnoxious, truly, I actually did see THE Northern Lights two nights ago from a little cabin with my husband on a fjord in Northern Iceland, which I've wanted to do ever since I was a little girl.)
(Pssss… a "fjord" is a long, narrow inlet with steep sides or cliffs.)
On to part one of the interview! Please come back for part two to find out what happened when Andrea was late to a show she was in and to read more information about her important charity work with DetermiNation which raises money for cancer research!
How on earth do you make time to be an actress, a triathlete, a traveler, a website builder and a humanitarian all while keeping yourself looking beautiful? Do you have a workout and/or food routine? Do you ever get a break just to watch some TV/films or spend time with family/friends?
Aww, thank you. I don't always feel beautiful, but I do my best to at least feel healthy and presentable. I run a couple of miles several times a week, and I've been doing a weight-bearing routine that the Sons of Strength (Google them, they're amazing) put together for me. I also cleaned up my diet lately thanks to a nutritionist who put me on the path of colorful meals and fresh foods. It's reasonable too — doesn't make me give up white wine and dark chocolate — and I really do feel so much better. And although I don't get to do as much of it as I'd like, I LOVE sleep. It's always the best thing for me. Of course whenever I'm training for a triathlon I'm doing the running, biking and swimming thing, which will whip you into shape fast (although my appetite gets crazy, which I really have to watch). It is hard to keep up serious training when other parts of my life get busy, though, so it's good that I'm not at all competitive where races are concerned. Slow is fine… more space around me. In terms of making time to do all the things I do, I think when you're making time for the right things –the things you love — it just works out. Some days are busier in some areas than others, and some days feel SO unfairly short and jam-packed. But there are also days where you can sneak away with a magazine and a bubble bath for some blessed extended time. Or my husband and I can sneak away to the lake and just lay on the dock. I do love my work, and it's easy to get too wrapped up in it. But I also cherish the time I spend with my family — my husband, our dog and our bunny. Family time for us is wonderfully simple — dinner in front of the TV, watching back-to-back episodes of Chopped and House Hunters International, then falling asleep together on the couch. And I love every second of it.
What was your audition like for Ender's Game in which you play Ender's mom? Did you HAVE an audition?
I had an audition! And it was simultaneously wonderful and horrifying. The callback was essentially a rehearsal session with writer/director Gavin Hood, which was wonderful to work on. But by that time I wanted the role so much that I felt like every single thing I did in the audition was just grossly overacted, that I was barely better than I'd been in junior high productions, when I played the mother by spraying my hair grey. But ultimately I think I dove in very deep emotionally, connected with the character and her struggles, took Gavin's insightful adjustments, and it just worked. That felt good, and made me a little less nervous. The callback was in New Orleans, and I remember taking my husband along and making sure that we did at least nine more interesting things in New Orleans that day, so that the callback would be the tenth most interesting thing. It was a busy day, but we accomplished it. For the audition, I just had the sides [part of the script] — the full script was locked up tight as a drum. The first time I saw it was at the table read, where I read in Viola Davis' part opposite Harrison Ford because she couldn't be there that day. Good thing I didn't fully understand what was happening (truly, I was that into the script, it's amazing) until it was over, when I looked at the scar on his chin, thought to myself, "Wow, that's Harrison Ford," and my stomach turned over 50 times. And Sir Ben Kingsley was sitting two chairs to my left. So yeah, just a typical Thursday.
At what point in your acting career did you get a stylist?
Stylists tend to be especially important when there's something to promote, and you're going to be more in the public eye, like now. A great stylist learns your personal style quickly and knows what will look great on you. They can also save you from yourself, when you're convinced that just one more accessory will really "make" this outfit! Or you get too matchy-matchy. I don't have one particular stylist that I work with all the time, but I do love Caravan Stylist Studio in New York City. They've dressed and styled me for several events and photo shoots, and I always love the way they make me look. They also choose things that are totally me, so I don't feel like I'm playing the part of someone I'm not.
You're part Cherokee Indian. Tell us about your family history.
Yes, only a little [part Cherokee], but enough to have my tribe card and vote in elections. My gorgeous mother (turquoise eyes and black hair, even now when she's almost 90) has always been very proud of our Cherokee heritage, and I remember watching Westerns with my grandmother and following her lead, rooting against the cowboys and for the Indians. I think my Cherokee comes out the most when I've spent some time outdoors. I've always had a strong connection to nature and love being in it. I also love the Cherokee belief that marriage means you'll live forever in the center of your partner's soul. There's something incredibly comforting about that. My father's side is Scotch-Irish, so I can still burn if I get too much sun. But it's also where the blonde comes from. I really like the mix.
You played Sasha in Twilight: Breaking Dawn, Part Two. How much fun did you have with this role?
I had a ridiculous amount of fun with that role. I got to wear beautiful medieval clothing and have my hair pretty and blonde and long and my eyes lavender AND have my head and arms popped off and thrown on a fire. It was an all-night shoot that kept being interrupted by torrential rainstorms, so the mud was knee-deep. They were shooting both Parts One and Two at the same time, so there were multiple sets going and we kept having to time my screams on our set so that they wouldn't disturb the romantic scene going on on the other set. They had to cover us in green plastic (the "Cloak of Secrecy") as we were going from trailers to set so that the paparazzi they found in the trees couldn't photograph the costumes. And despite everything that was on fire in my scenes, it was freezing. All of these things should have added up to a stressful, awful situation. But truly? It was fantastic. The director, Bill Condon, was so great to work with, and he knew how to make situations both grand and affecting. The world he created in my scenes was so terrifying and gruesome that I almost didn't think they would make the cut. But after seeing Part One and the childbirth, I knew the chances of them staying had to be pretty good. Bill didn't shy away from horror, not at all.
Come back in a few days to read part two of the Andrea Powell interview!